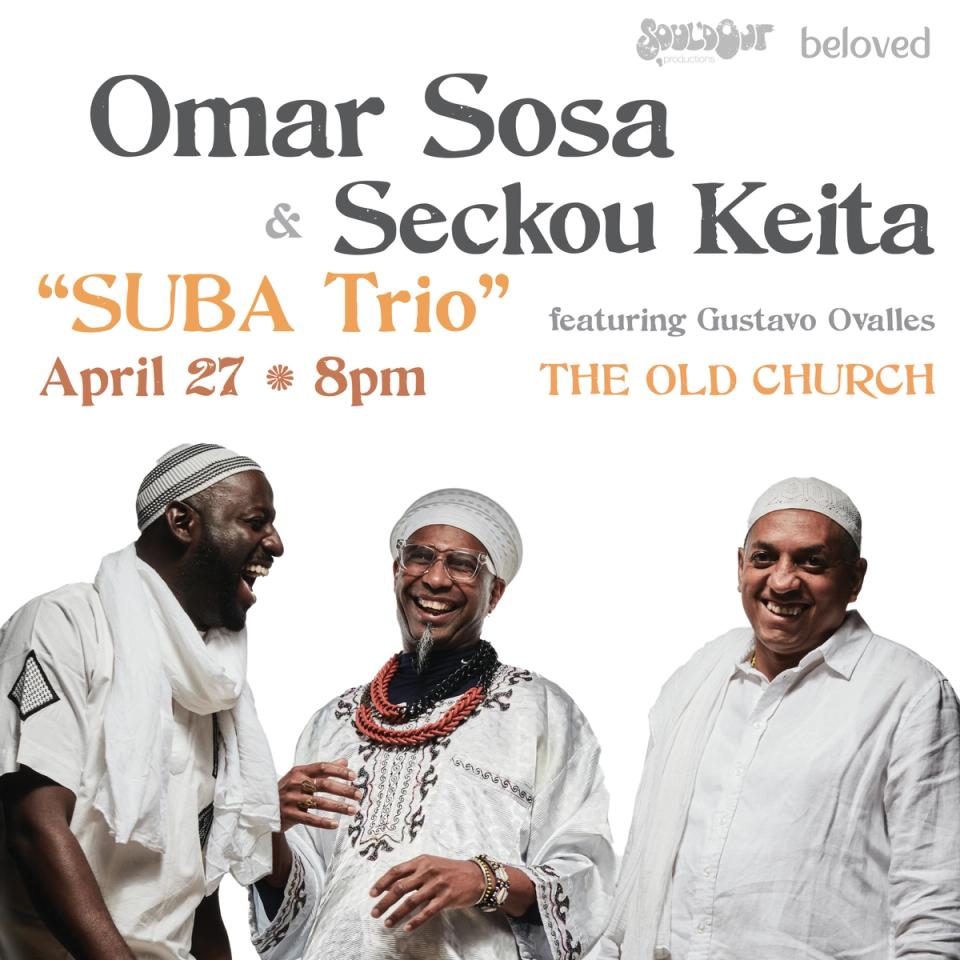 Omar Sosa & Seckou Keita SUBA Trio
Featuring Gustavo Ovalles
Thursday April 27, 2023
7pm Doors/8pm Show
The Old Church, Portland
Presented by Beloved & Sou'd Out. SUBA Trio is the second recording and concert collaboration between these charismatic and virtuoso performers: 7-time GRAMMY-nominated pianist-composer-bandleader Omar Sosa and U.K.-based Senegalese kora master and singer Seckou Keita who share a special musical chemistry that inspires audiences to their feet with a unique fusion of jazz and world music.
Rounding out the Trio is the wonderful folkloric Venezuelan percussionist, Gustavo Ovalles, whose exceptional mastery of the maracas, quitiplas, and culo 'e puya is truly remarkable.
Tickets for this all-ages show are on sale now!
RSVP & Share
"Through the music we bring a message of peace, hope and unity. When everything around us falling apart, the one thing we have inside ourselves is a divine connection with our inner voice." -Omar Sosa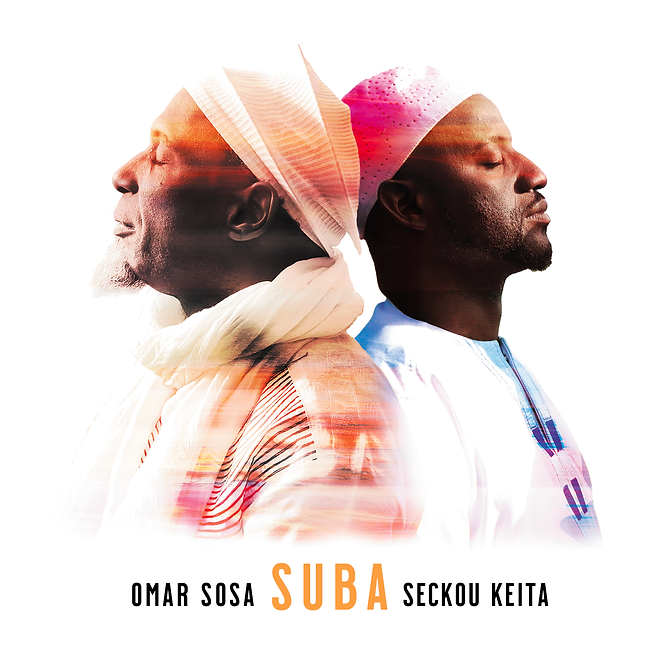 Omar Sosa & Sekou Keita
The Atlantic Ocean separates Cuba and Senegal, the respective birthplaces of piano virtuoso Omar Sosa and kora maestro Seckou Keita, a distance diminished by their shared ancestral connection to Africa. When the pair met in 2012, Seckou loved Omar for his musical spirituality, whilst Omar saw in Seckou a rare ability to collaborate but not lose his identity. Their debut album Transparent Water (2017) was hailed as 'beautiful, rhapsodic… spiritual' (Songlines) and "mesmerising, evocative and sophisticated" (World Music Central).
Both charismatic and virtuoso performers, Omar Sosa and Seckou Keita share a special musical chemistry that inspires audiences to their feet with a unique fusion of jazz and world music. Each concert is an uplifting experience, reflecting the close and compassionate listening of artists engaged in a captivating musical conversation.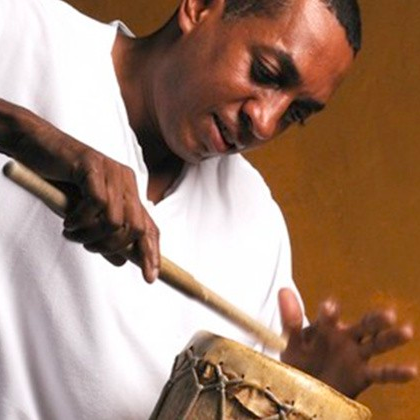 Gustavo Ovalles
Gustavo was born 1967 in the capital of Venezuela, Caracas. He settled in Europe in 1997 to understand the European roots of Venezuelan music and with the intention of sharing the richness of the Venezuelan tradition.
The venezuelan percussionist and teacher Gustavo Ovalles studied many techniques, styles of music and dances, before collaborating with international artists like David Murray, Omar Sosa, Julien Lourau, Minimo Garay, Orlando Poleo, Seckou Keita, Yilian Canizares and Juan Diego Flores.
His commitment on stage, his knowledge of traditional Venezuelan instruments, his sensitivity in interpretation and devotion to the compositions, as well as his unmistakable techniques and creativity make him an exceptional musician and artist.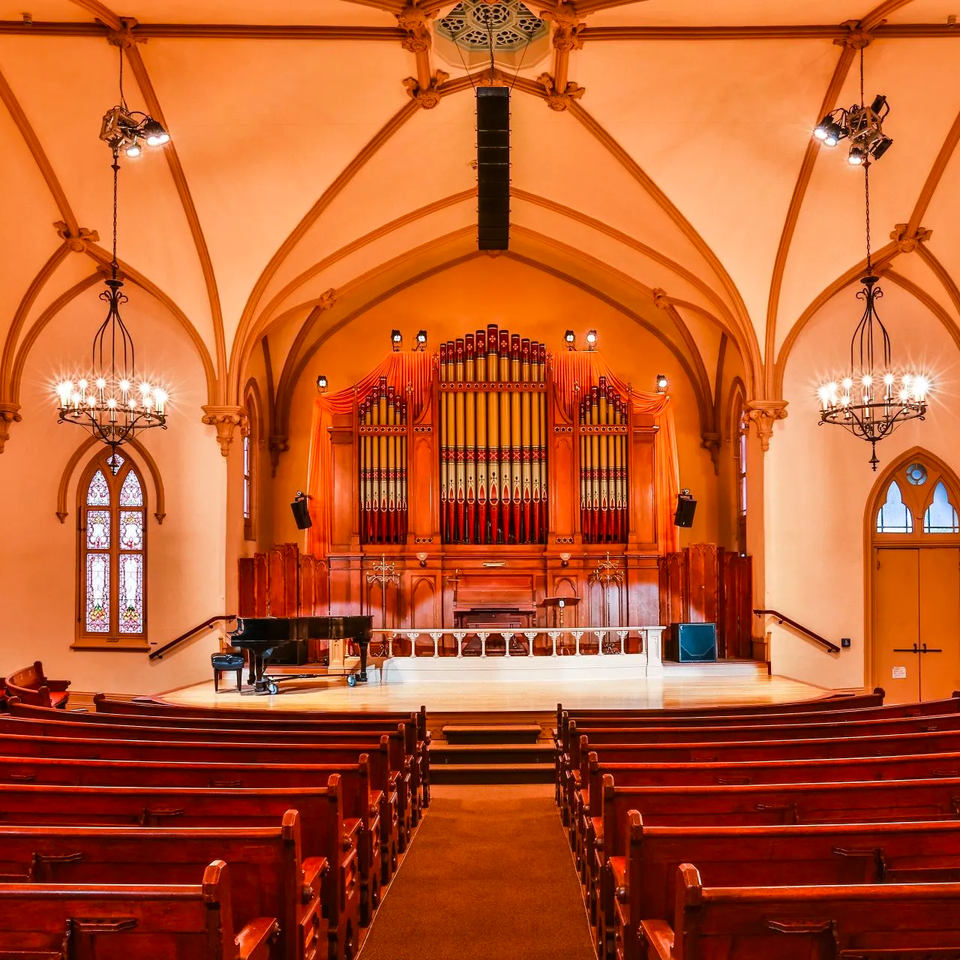 The Old Church Concert Hall
1422 SW 11th Ave, Portland, OR 97201

TOC Concert Hall is a non-profit, non-religious, all-ages venue in Portland, Oregon.

Built in 1882, it is on the National Register of Historic Places. Our mission is to produce and present programs that reflect and enhance the cultural life of the community and to preserve and celebrate the building's historic architecture.

TOC humbly acknowledges that the Portland metropolitan area rests on the traditional village sites of the Multnomah, Wasco, Cowlitz, Kathlamet, Clackamas, Bands of Chinook, Tualatin Kalapuya, Molalla and many other Tribes who made their homes along the Columbia (Wimahl) and Willamette (Whilamut) rivers.