In the face of broadscale ecological collapse, one of our primary aims for Beloved is to explore new ways to honor and respect our planet in crisis while we celebrate its ever-present connection with us all.
That said, we must be honest that gatherings like these cannot truly be sustainable. "Sustainable Festival" is an oxymoron. Adaptation is key.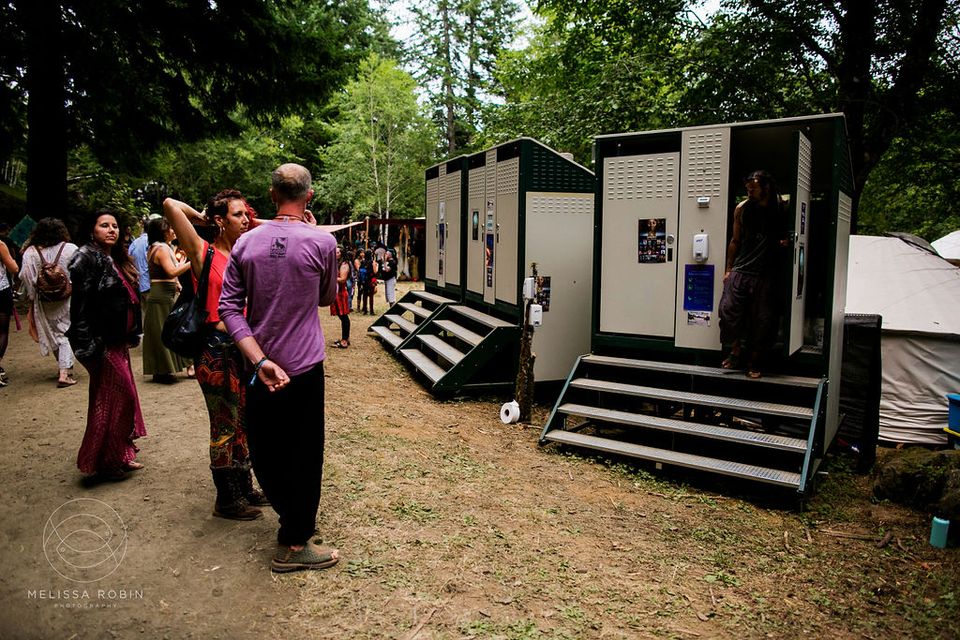 We do not take lightly that we are asking for hundreds of people and tons of equipment to be driven for at least several hours. We are also setting up a temporary power grid and consuming dozens of megawatts of power, generating nearly a ton of waste and using over 20,000 gallons of water.
Our goal is that Beloved not only reduce its negative ecological impact, but aim for the event to have a net positive effect on the battered Willamette Valley ecosystem and on our planet's ability to survive the many and constant threats to her life. Moving to a location better suited for gatherings is one of many ways we work to minimize our impact and to use these efforts as an educational platform for all participants.
Since 2018, 100% of all human waste created on site is collected and turned into usable material. We're thrilled at the results of this first step towards a flushless future and a humanity that loves and respects water.
We've created an industry-leading reusable dishware & flatware program for all festival food service. Through the "Blissware" program, we have prevented >50,000 disposable plates and utensils (3 full dumpsters) from filling landfills.
We sort all waste thoroughly and send only a limited amount of garbage to the landfill; all other waste is either recycled or composted. Since 2008, our 3-stream waste sorting plan diverted hundreds of tons of material from the landfill.
Our electricity generation is a thoughtful mix of solar, biodiesel, and grid power.
Greywater is captured and reused on the land.
We print our flyers, posters, program guides, and everything else that we can on recycled or tree-free papers using vegetable inks.
We use long-lasting fabric wristbands.
We use a carbon neutral web host.
Ecological impact is weighed as one of the most important factors for every decision we make.
During the months leading up to the event, our staff is powered by a mostly local, organic diet. We ride bikes or drive biodiesel/hybrid vehicles. We wear recycled and/or locally produced natural fiber clothing. We share resources with friends and neighbors. We honor the earth as The Beloved. We are all doing the best we can to set an example of how to tread lightly on this small planet.
We strive to practice extreme water care by providing conservation education, efficient usage, transport (including gratuitous air travel), greywater cycling, and onsite recharge.
We are asking for you to take note of these choices and to let us know if you have any ideas for how we can do a better job. Please contact eco@belovedfestival.com with any ideas or suggestions.
The most significant impact of this festival on the planet is how you get here and what you bring. Please aim to eliminate single use items from your packing list.
Please carpool or take our Biodiesel powered Ecoshuttle.
Coordinate with others to pool resources, share equipment, and limit waste.
=
SOIL
NOT OIL
holds the future
for
HUMANITY.
–Vandana Shiva
()