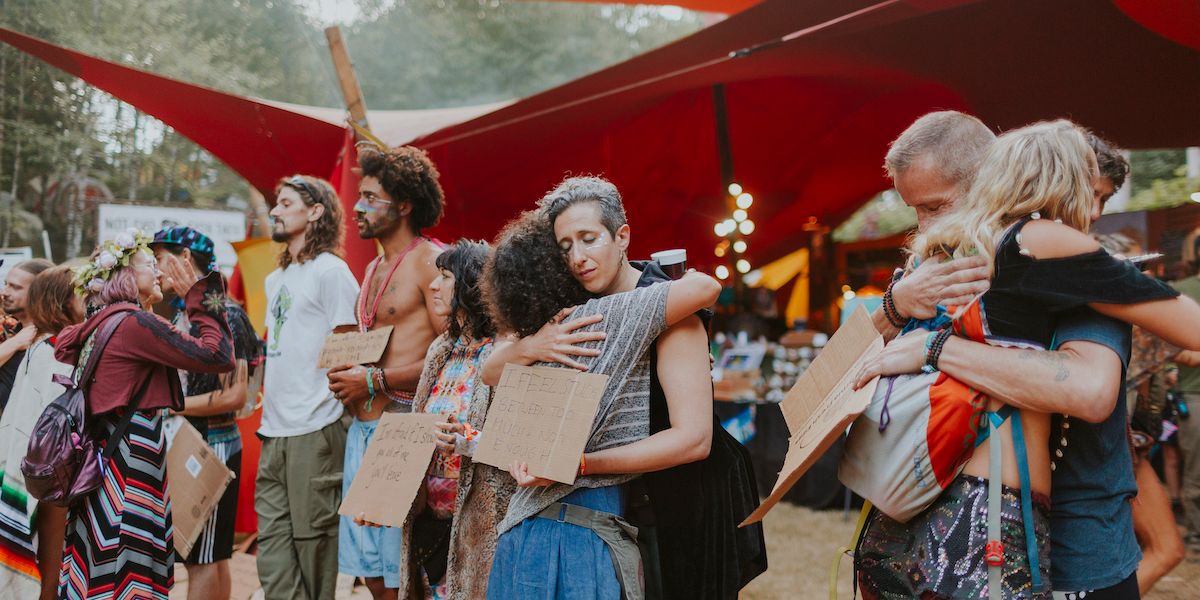 Interview: Vulnerable Rally
Part direct action, part open-eyed group meditation, part street theater, part grief ritual and 100% unexpected, Vulnerable Rally isn't just "the opposite of advertising," it's a cultural somatics movement.
"I chose anorexia over my marriage." –Vulnerable Rally Co-Founder Candice Holdorf's Vulnerable Rally sign
Beloved recorded a call with the founders of Vulnerable Rally: Gabriel Diamond and Candice Holdorf to discuss how it started the day after the 2016 election, the way it evolved into a practice space, and how it shows us that often our greatest teachers are avoided at all costs.
"The thing that really unites us is we're all hiding the same kinds of things. We all have shame around our sexuality, around our appearance, around our worth, around if we're doing enough with our lives, if we're showing up for others and the earth in good ways. We all have deep fear and shame around that, and no one wants to talk about it." –Gabriel Diamond, Vulnerable Rally Co-Founder
On the differences between feeling vulnerable and feeling shame: Shame gets dissolved in community and connection.
We also discuss how Vulnerable Rally mitigates the effects of toxic shame, how the Rally at Beloved is different from the Rally done in the street, and some stories of what happens when you tell a deep secret in public!
"Vulnerable Rally helps us, as James Kapicka says, to 're-mammal' ourselves. –Candice Holdorf
We speak of power and privilege: Who has access to Vulnerable Rally? What does it mean to be truly vulnerable when bodily safety is stratified along identity lines?
We introduce Candice and Gabriel and then the interview gets underway at the 4:25 mark.
Content warning: mild talk/images related to eating disorders, suicide, sexual abuse and other traumas.
With a final shout-out to Portland-based blessedupthreads.com!